Global Vehicle Launch: A new class of heavy vehicle
CMB develop a new OEM brand and manage a global vehicle launch for Torsus
The Problem
With a new class of heavy vehicle quickly approaching its market release date, Torsus had no brand or even a name for its vehicle or business. Aimed at the international market, they needed a brand identity that would work across all territories and markets. In addition, Torsus wanted a high-impact launch campaign to generate significant levels of customer interest and begin developing their global dealer network.


The Solution
Through extensive market research, CMB defined the existence of high volume market opportunities across global sectors, focused on heavy industry, leisure and defence sectors. Developing a brand that was suitable for use across all regions in the world was key. CMB developed the Torsus company name, Praetorian, the vehicle marque and a number of subsequent planned model marques. Through a detailed planning and development process, we shaped the Torsus brand personality, identity and created a full set of brand guidelines that provided a contemporary feel aligned closely with the vehicle design and company personality.
Global Vehicle Launch
Once the brand was defined and established (with international trademarks in place), we focused on a global vehicle launch campaign. Choosing the Famous Hillhead mining and construction event in the UK as a launch platform, CMB developed the international launch, coordinating with Torsus's team based throughout Czech Republic, Slovakia and Ukraine. To support the launch event at Hillhead, we focused on global PR coverage, gaining huge international coverage in over 300 international media outlets and driving more than 350K website visits in a space of under 3 months.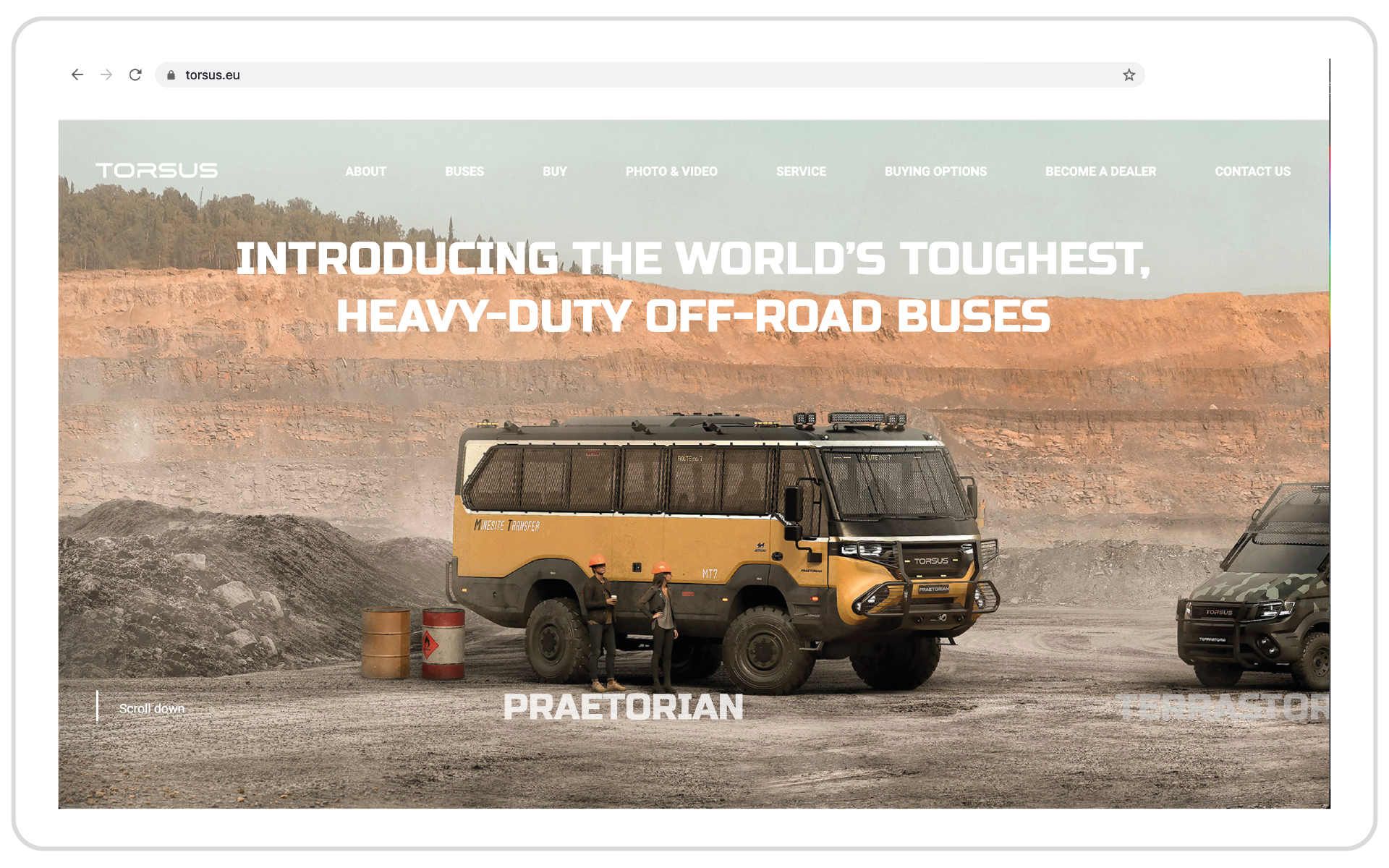 "CMB gave us a brand we're all very proud of. Their dedication, quality of work and the commitment to the success of Torsus was truly world-class and they will always be a part of our story."
Vakhtang Dzhukashvili  |  CEO, Torsus





What we did…
CMB Automotive worked with Torsus as their outsourced marketing facility, providing a full range of integrated branding and marketing services. We created the Torsus brand and launched the Praetorian to the world market, build awareness and driving dealer/distributor acquisition.
Brand development & brand strategy
Identity including naming, logo and tone of voice
Global launch campaign
International marketing
Development of global dealer network
Marketing, communications and PR
Digital marketing, including website
Design and development of multiple brand assets and collateral
What we achieved…
We successfully launched Torsus to the global market place, creating brand awareness, driving dealer acquisition from around the world and generating sales of its unique off road vehicle.
Successful brand development with international trademarks approval on names, logos and identity
Secured sales for 15 vehicles within first 12 months from launch, from customers around the world
Acquisition of global dealers from Ukraine, Poland, Germany, Holland, Australia, Czech Republic, Chile, Brazil and Iceland
Launch event in UK at world-leading mining and construction event. Generated significant PR and brand awareness
Significant press exposure including features in over 300 global media outlets, 350,000+ views of Youtube videos and multiple TV features and interviews
Lead generation and sales activities resulting in orders of 15 vehicles and tenders/RFPs to supply potential orders for over 200 vehicles

Ready to see what we can do for your brand?
Contact us on:
UK: +44 (0) 1604 264 663
US: 001 248-817-8848